Safety starts at the top with a deep commitment to our employees, clients, and the environment.
That commitment provides for employee livelihood, client needs, and company profitability through the application of management systems that drive toward safety related goals.
These goals are best achieved by:
1. Education of employees on safe work practices
2. Proactive hazard identification, elimination and control
3. Continual HSE improvement processes
4. Promotion of a positive "Safety Culture" lifestyle
Our efforts to raise productivity and enhance our quality of workmanship will never be at the expense of our commitment to safety.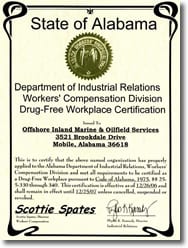 State of Alabama Drug-Free Workplace Certification